Quick Links
---
Hardcast Competitor Comparison


Resources
---




Hardcast, DynAir & Gripnail
Hardcast encompasses Hardcast Duct Sealants and Adhesives, DynAir Airflow Hardware and Accessories, and the Nexus 4-Bolt Flange Closure System & Gripnail, creators of the original HVAC mechanical insulation fastener and application equipment.
As an industry leader, Hardcast supplies superior products and engineered solutions to ensure the sustainability of your HVAC system. Our formulations include U.L. listing, U.L. GREENGUARD Gold certification, True Zero VOC content and 10 Year Warranties.
They exceed industry standards and are engineered to ensure consistent, quick and accurate installation. Our products and solutions deliver maximum efficiency, unparalleled quality, and unmatched savings, and to ensure these goals are met, we provide thorough training and field support.
---
Featured Products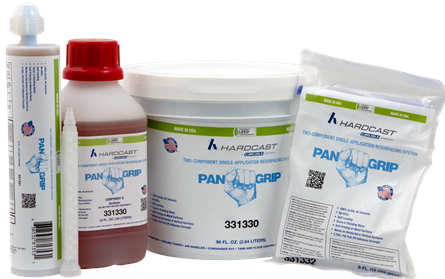 Pan-Grip and Pan-Grip Flex
Pan-Grip and Pan-Grip Flex are multicomponent novolac based epoxy products that are designed to seal and repair corroded surfaces in all HVAC systems. The products can be used on horizontal and vertical surfaces. The coating is impervious to water, non-rusting, chemical resistant, and can be applied directly to a properly cleaned and prepared surface without a primer.
Pan-Grip can be applied and will cure under water. Pan-Grip Flex is designed for high elongation in typical environments and for applications where vibration and movement will be of concern. It is able to withstand moisture, manage temperature changes, and adjust from freeze to thaw.
Specifications:
Designed for the Airstream, Tested for the Airstream
Exceeds requirements for HVAC Smoke and Flame (ASTM E84 Tested)
Highly Chemical Resistant
Cures Under Water
Combine with Hardcast RS-100 Restoration Duct Sealant for 10 Year warranty
Pan-Grip Flex provides best flexibility for high-traffic, high-movement areas