Quick Links
---
Return Merchandise Authorization (USA)



Resources
---
CA Building Standard Code - Chapter 4: Ventilation Air




Think Comfort. Think Clean Air. Think Energy Smart.
Fantech has been a leader in the air movement/ventilation industry since 1981. Fantech offers code compliant whole house ventilation solutions.
Fantech products are energy-smart and simple to understand, install, use and maintain. Fantech's new products are certified by AMCA, UL and CSA, and always guided by the notion of simply better™.
---
Featured Products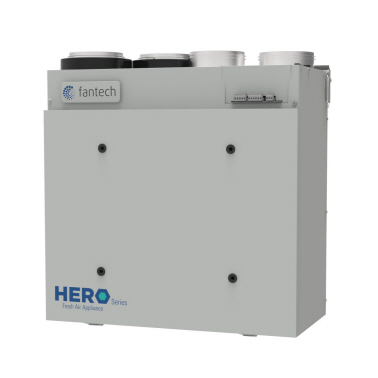 HERO SERIES
Fresh Air Appliances (HRV/ERV Solution)
HERO fresh air appliance provides a controlled way of ventilating a home.
It works continuously to supply up to 265 cfm of fresh, filtered air into the building while removing the equal amount of moist, stale air.
It's completely re-engineered HRV delivers a minimum of 80% energy transfer of sensible recovery efficiency (SRE).