Quick Links
---
Resources
---




Energy Efficient Infrared Heating Specialists
Superior Radiant Product is an industry leader in the design and manufacture of energy efficient infrared heating solutions and is dedicated to providing superior technology and superior performance.
Located in U.S.A., Canada, and China, SRP offers a complete range of gas-fired low and high-intensity infrared heaters for industrial, commercial, agricultural and residential applications worldwide.
---
Featured Products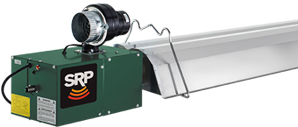 Standard High Efficiency Heater - Model UA
Heavy duty industrial/commercial infrared heater with a built in low voltage option.
Features:
40,000 to 220,000 BTU/h
Natural Gas and LPG
Configurations of U and L, horizontal or 45°
Separate controls compartment – electronics out of air stream, the burner can run during servicing
Self-diagnostic ignition module
Parabolic aluminum reflectors - most efficient in the industry
Direct spark ignition
Vented or unvented
Operating status lights
24v direct wire for the thermostat
Hinged service cover – easy to service
Jetstream burner – improved heat distribution, better combustion
Heavy duty couplings – no leaks, cannot be over tightened
Three-year warranty on all components
Five-year warranty on hot-rolled heat exchanger
Seven-year warranty on aluminized heat exchanger
Post-purge feature will extend warranty