Quick Links
---
3M Best Seller Product Catalog


Resources
---
2019 California Mechanical Code

3M Building & Construction Solutions
Whether it's new construction, renovation or demolition and clean-up, 3M has a wide range of reliable solutions for the building and construction industry to improve safety, productivity and efficiencies through each stage of the project.
Our innovative and high performing products can be used for a variety of applications, and expert support is available.
For every step of a build, there's a 3M product designed to streamline your operations, whether you're installing critical interior systems like HVAC and fire protection or applying UV-reducing window films to improve comfort and energy use - Click on the product brochure under quick links to see more.
---
Featured Products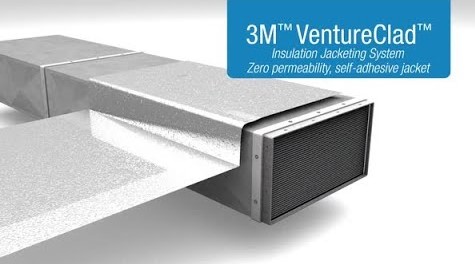 3M™ VentureClad™ Insulation Jacketing Tape
3M™ VentureClad™ Insulation Jacketing Tape 1577CW is a zero permeability, all-weather, multi-layered laminate coated with an aggressive cold weather acrylic adhesive for various jacketing applications. This product is used to protect insulation against UV, ozone, high humidity, salt spray, weather, oil and grease, aggressive chemicals, impact and mechanical abuse, corrosion under insulation (CUI), and moisture vapor intrusion. It works well with many insulation types.
Specifications:
Zero permeability provides an absolute vapor barrier for sealing applications
Cold weather acrylic adhesive applies easily at temperatures as cold as -10°F/-23°C
10-year 3M warranty when applied per 3M installation guidelines
High puncture and tear resistance ensure longevity and durability in a variety of applications and environmental conditions
Qualifies for compliance credit for LEED®
Flexible backing conforms to irregular and curved surfaces
Easy to cut and install on-site without special tools or application methods